GPS Knee-/Thigh Pads (KTP)
New since 2013, Maltese Sports introduces our latest product, the KTPs - Knee- /Thigh Pads.
After years of research and development in the knee pad department and based on the success of our GPS products, specifically, our neck protection, we have, what we feel is the ultimate knee protection. We use three layers of our air frothed gel to make the most comfortable, mobile and protective knee pads. But we didn't stop at the knees, we went higher to protect the thighs too.
"Often, when in the butterfly the thighs get exposed more than the knees and I know this from experience." [Phil Maltese]
As always, no hard parts used, so landing on these "stand alone" protective Knee/Thigh Pads (KTPs), will solve rock hard landing gear pads as well as missing your landing gear altogether. It's when you take a puck to the knee/thigh area and you don't hear a noise and don't feel a thing that you'll come to fully appreciate these pads from us. Goalies often complain that their knee pads of choice prevent their pads from rotating, but ours are very low profile and do not cause those same rotation issues.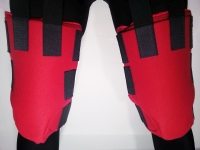 GPS Lace-Bite Pads (LBP)
Our first mass distributed item to NHL teams.  These pads have gone through three incarnations as our materials evolved, and just like the rest of our lineup, the Lace-Bite Pads feature reduced weight while offering the same amount of protection.
The pads prevent lace bite via a simple appliance to use.  While your skates are on, but not laced up, you place the pad (velcro dot in direction to the tongue) against the affected area; bring down the tongue and lace as per usual.  When you unlace your skate and take it off, the LBP stays on the tongue (depends on the inline material of the tongue).  No more looking for your lace bite pads for each skate session!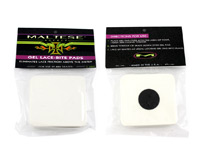 GPS Ankle Pads
Similarly to our LBPs the ankle pads addressed to a much more difficult part of the foot. A concept fo the ankles area, it prevents pressure points, but they also stabilize the grip in the skates. The ankle pads support you. Especially Defender know that: outside, you could need a little a more protection sometimes - whether shots or strokes. Our APs suited for this as well.